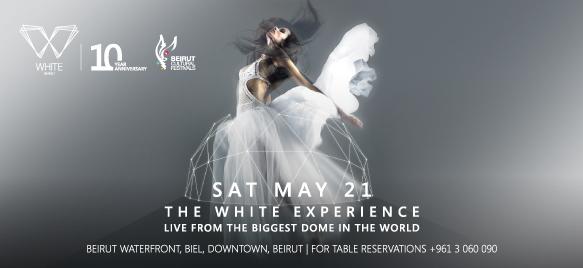 On 21 May 2016, White Beirut will take center stage at the Beirut Cultural Festival (BCF) to celebrate its 10th birthday. Get ready for the most memorable nightlife experience under the largest dome in the world.
Celebrate with us #10yearsofwhite while the most renowned international DJs and artists to rock the stage. Feast your eyes to the most mind-blowing 360º projections and state-of-the-art lights and laser show for the most mezmerizing show Beirut has ever seen.
Launched in August 2015, the Beirut Cultural Festivals was conceived with the purpose of maintaining the prestigious image of Beirut in the world. The aim of this festival is to reveal the many cultural influences left throughout Beirut's history – a never-ending melting pot of different cultures and ideas.
Save the date and meet us under the biggest dome in the world.
For table reservations, call +961 3 060 090.